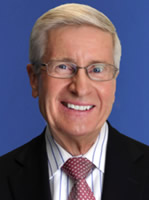 Harold J. Depoali
Senior Vice President, Client Advisor Manager
Nevada Office
Harold is a Senior Vice President, Client Advisor Manager in Whittier Trust's Nevada office where he provides financial and fiduciary services to high net worth clients. Often his client relationships are multi-generational, and he currently services clients in eleven states. Harold works extensively with his clients in the areas of trust and agency administration, including document review, fiduciary accounting, investments, finance, real estate, taxes and estate planning.
Harold has 35 years in the trust and financial services industry. Prior to joining Whittier Trust, Harold was a Vice President at Wells Fargo Bank, Reno, NV (formerly First Interstate Bank of Nevada). He is also a director of Whittier Trust Company of Nevada.
Harold received his Bachelor's degree (with distinction) from the University of Nevada, Reno (UNR). He is a graduate of Cannon Financial Institute's Trust School and holds the Certified Trust and Financial Advisor (CTFA™) designation. A native and lifelong resident of Reno, Harold is a member of the Planned Giving Advisory Council for the University of Nevada, Reno and a long time member and past president of the Northern Nevada Estate Planning Council.