Appreciating What's Important To You.
Vol 1. Issue 1
The Secret to Generating Wealth for Generations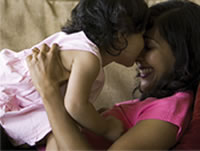 Most people don't realize that up to 80% of families lose their wealth by the third generation. For 5%, it's a result of poor legal or financial advice—the remaining loss is overwhelmingly a direct result of breakdowns in family.
The causes of this failure and, more importantly, what worked for families that successfully transferred wealth have been studied in depth. Results showed successful families had three things in common: 1. A culture of trust and communication. 2. A process for preparing heirs to be responsible for their wealth. 3. A distinct mission for the family wealth. Not surprisingly, a majority of the successful families were also involved in family giving. Philanthropy offers a perfect venue to practice the habits of successful families.
For more than a half century, Whittier Trust's seasoned philanthropic services executives have facilitated family meetings and retreats designed to develop family governance structures, improve family communication, identify family values, and plan for your legacy – all in an atmosphere of collaboration and yes, fun. Given our multi-generational focus, it's no surprise that the first generation to come to Whittier Trust is very rarely the last generation.
While Whittier Trust's tradition of exceptional investment performance helps you hold on to your wealth, we're just as focused on families holding on to each other.
Six Practical Tips for Raising Philanthropic Children
Start Early: Values and habits are developed early, begin when children are four or five years old (although it's never too late to start!). Giving becomes reflexive – "it's just what we do".
Set an Example – Be Philanthropic: Children learn by watching what parents and teachers do ­– put on a recital or skit at a nursing home, serve meals at a soup kitchen, bake casseroles for sick friends and family, donate used clothing to a homeless shelter, plant trees at a local park.
Be Intentional and Visible: Baby Boomers are a generation of givers but you are busy, your children are busy; in our efficiency, we hide our giving from our children. Take the time to involve them. Let them know what you are doing and why. Have them come with you and see the joy on the faces of those you help.
Leverage Tools:
– Teen Volunteering – www.dosomething.org
– Rustic Pathways – www.rusticpathways.com
– Global Works – www.globalworkstravel.com
– Global Leadership Adventures – www.experiencegla.com
– Consider forming a family foundation or donor-advised fund (let kids follow their own passions!) to teach money management, instills charitable values, and unify the family around a common mission.
Be Consistent: Create an allowance for "spend, share and save". Incorporate philanthropy into your family traditions, such as have children select philanthropic birthday gifts for siblings and friends, volunteer as a family at a homeless shelter every Thanksgiving, have children select a gift for someone in need at Christmas or at Hanukkah. Adopt a charity and become regular volunteers.
Emphasize the Joy: Have fun! Demonstrate that giving truly is receiving – teaching your children the joy of giving is handing them the key to a joyful life.