Do you like what you see?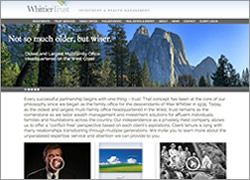 Whittier Trust recently launched a completely new website featuring simplified navigation, beautiful new graphics and streaming video, all with closer alignment to the Whittier Trust brand. According to Brandi Fields, V.P., Marketing "The response to the refreshed branding we completed about two years ago has been so positive, we felt it was time to take a fresh look at our website to create one worthy of our brand." The results have elicited enthusiastic feedback from our internal audiences, as well as from current and prospective clients and partners who have visited. Coupled with the positive response our advertising campaign has generated, data shows that website page views have increased by 54% and time spent on the site has increased by almost 34% since the site was launched in January of this year.
Research told us that many Whittier Trust clients who have been with us for years were unaware of additional services that could benefit them. With that in mind, we encourage everyone to take a fresh look at whittiertrust.com. The site's downloadable brochures provide one more important tool to help define our services and further deepen the close relationships we enjoy with our family of clients.
Stay Tuned!
Our marketing team has plans for on-going enhancements to the site, including additional interactive features. The first to be implemented later this Spring will feature a series of videos that will allow clients to share how they've benefited from the services Whittier Trust offers. We invite you to visit often.
Telling our story.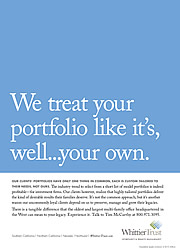 Whittier Trust for more than a half century, and its predecessor, The Whittier Trust Family Office has quietly served a very select clientele of affluent families and individuals. As our clients know, Whittier Trust provides a level of service that simply can't be found anywhere else. We felt it was time for a wider audience to see what they've been missing.
In the past year, we've embarked on an ambitious marketing program that not only enhances our already substantial reputation, but also generates greater awareness and inquiry among our select audience of affluent families. This year's campaign continues the bold and slightly provocative tone that we kicked off last year. Print ads with headlines like "We treat your portfolio like it's, well…your own." break through the advertising "clutter" and elaborate on specific benefits. In this case, the ad explains that unlike our competitors, Whittier Trust doesn't use a formulaic "model" approach on our clients' portfolios. Instead, we build investment portfolios from the ground up to meet the most unique needs of each individual client.
We invite you to keep an eye open for the campaign currently running in The Wall Street Journal and Forbes as well as select specialty publications — or download a PDF to view them all.
No matter how effective the campaign is, we will always measure our success by the most effective form of advertising—satisfied clients.
A shameless plug.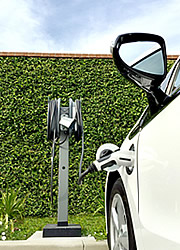 Whittier Trust employs an ongoing program to minimize our impact on the environment when and where we can. With electric and plug-in hybrids becoming more and more prevalent, we've recently installed charging stations at our South Pasadena headquarters.
The 240-volt charging stations are available for both employees and guests of Whittier Trust. Two standard stations service the majority of current electric vehicles and plug-in hybrids, while one station is reserved for Tesla vehicles. As a firm founded on the production of oil and gas, we have a keen interest in energy—no matter where it comes from.