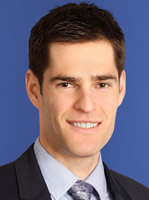 Ari Warmerdam
Vice President, Business Development
Northern California Office
Ari Warmerdam is Vice President, Business Development at Whittier Trust's San Francisco office. He is responsible for developing and building client relationships in the San Francisco Bay Area and will also be working with clients across their long-term and multi-generational wealth goals and priorities.
Ari brings nearly a decade of cross-sector business development experience, having worked closely with corporate leaders, notable philanthropists, government officials, professional athletes, and high net worth individuals. Most recently, Ari served as the Director of Corporate Partnerships at the San Francisco Symphony and prior to joining the Symphony, served as the Director of Corporate Relations at United Way of the Bay Area.
Ari is also active in the community and currently serves on the Board of Directors for the Asomugha Foundation, sits on the Health Committee of the San Francisco Giants Community Fund, and is a member of the Olympic Club.
A graduate of the University of California, Davis with a double major in Political Science and Communication, Ari was a four-year student athlete and currently holds the all-time record for highest single-season free throw percentage in school history. He also earned his Master of Science in Sports Management from Columbia University and an MBA from University of San Francisco.