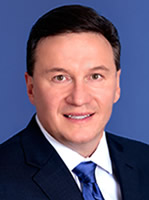 Brian Van Weele
Vice President, Client Advisor, Philanthropic Services
Northern California Office
Brian provides comprehensive and strategic philanthropic planning and consulting advisement to high net-worth families, private foundations, charitable trusts and privately held companies. With a rich background in financial planning, organizational development and nonprofit management, Brian works closely with Whittier clients to maximize their philanthropic impact, promote family philanthropy and develop strategic grant making goals.
Prior to joining Whittier, Brian served as the Director of Philanthropic Planning for the Marin Community Foundation, a premier community foundation providing customized and tailored philanthropic solutions to individuals, families and private foundations. He has extensive experience evaluating philanthropic impact, designing innovative philanthropic solutions and managing strategic grant making initiatives.
Brian earned his Bachelor of Arts degree in Economics from the University of California, Berkeley. He has professional experience as a financial planner, enrolled agent with the IRS, and a registered investment advisor. He also served 10 years as Executive Director for a social service agency providing mental health, residential treatment and special education services to youth and families in Northern California.