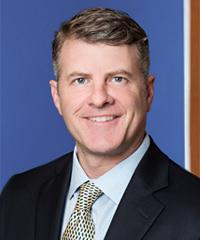 Bryce D. Coats
Vice President, Portfolio Manager
Seattle Office & Portland Office
Mr. Coats brings over twenty years of investment experience in both traditional and alternative asset classes spanning portfolio management, risk management, research and business development.  Prior to joining Whittier Trust, Bryce was Director of Sales & Marketing for Madison Park Capital Partners, LLC, a Seattle based alternative investment fund.  Prior to Madison Park, he served as CIO for Athens Capital Management, a single family office where he managed the hedge fund, venture and equity portfolios as well as all hedging efforts.  Prior to Athens, Bryce was portfolio manager and senior research analyst at Silver Creek Capital Management, a $10B fund-of-hedge fund firm where he co-managed and raised capital for a $650M emerging manager hedge fund vehicle.
Mr. Coats began his investment career working with institutional and high net worth individuals at Salomon Smith Barney.
Bryce holds a BA from Seattle University Albers School of Business and holds the Chartered Alternative Investment Analyst (CAIA) designation.