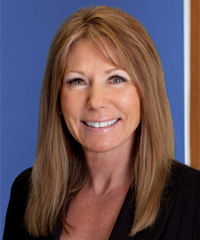 Deborah L. Wetzel
Executive Vice President, Client Advisor Manager
Reno Office
Deborah is Executive Vice President, Client Advisor Manager in Whittier Trust's Nevada office, where she is charged with overseeing the Client Advisory group's delivery of consistent customized client service to high net worth individuals, families and private foundations in more than 30 states. In addition, Deborah continues to serve as relationship manager for a select group of trust and agency/investment account clients, working on their estate, financial and tax planning matters. She also serves on the Board of Directors of Whittier Trust Company of Nevada.
Prior to joining Whittier Trust nineteen years ago, Deborah was a Vice President with Valley Bank of Nevada and Bank of America Nevada's Financial Management & Trust Services group. Prior to working in the financial services industry, she was a television news anchor and reporter with network affiliated stations in Reno and Sacramento, California.
Deborah received her Bachelor's degree (with honors) from California State University, Sacramento. She is a graduate of Cannon Financial Institute's Personal Trust and Graduate Trust Schools and holds the Certified Trust and Financial Advisor (CTFA™) designation. Deborah also was recently certified as an Accredited Estate Planner (AEP®) by the National Association of Estate Planners & Councils. She is currently a member of the Estate Planning Council of Northern Nevada and the Southern Nevada Estate Planning Council and serves on the Planned Giving Advisory group of the Nevada Museum of Art. Deborah has been actively involved with a number of civic and philanthropic organizations; she recently served on the Board of Directors of Parasol Tahoe Community Foundation and was President of the Nevada Humane Society.