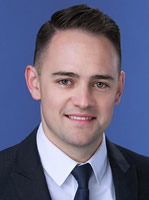 Jacob Klaus
Vice President, Client Advisor
Nevada Office
Jacob is a Vice President, Client Advisor with the Whittier Trust Company of Nevada. Jacob provides financial and fiduciary services to high net worth individuals and their families and works closely with multi-generational relationships including grantors, trustees, beneficiaries and business owners. He works closely with our clients to leverage the statutory framework available in Nevada to create tax advantages as well as asset protection and estate planning solutions.
Jacob has over 7 years of professional experience in the legal and fiduciary services industries. Prior to joining Whittier Trust, he was a Vice President and Trust Administrator with BMO Private Bank. Jacob has also served as a Probate Court Commissioner and has practiced law in the areas of Estate Planning and Probate.
Jacob graduated from Liberty University with a Bachelor's degree in Finance and also obtained a J.D. from Liberty University. He has been admitted to practice law in the states of Washington and Wisconsin.