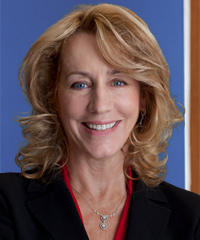 Julie Lytle Nesbit
Executive Vice President and Executive Director, Philanthropic Services
Los Angeles Office
Julie is an Executive Vice President and Executive Director of Whittier Trust's Philanthropic Services department. She and her staff provide advisement to the firm's high net worth clients and provide management services for their foundations and donor-advised funds. Julie advises clients on issues such as formalizing their philanthropy, strategic grantmaking and involving the next generation in charitable giving. She also provides turn-key, comprehensive foundation and DAF management services, shouldering all of the administrative responsibilities so clients can simply experience the joy of giving and the positive impact it has on their families. She also organizes and conducts Family Legacy Retreats to help our clients achieve their desire for richer and fuller lives.
Julie joined Whittier Trust with over 30 years of experience in the financial services and high tech worlds. Prior to Whittier Trust, she was with Ernst & Young, LLP and a partner her last thirteen years with the firm. She held a number of operating and leadership positions working with private and Fortune 250 clients. Prior to Ernst & Young, she worked for XL/DataComp, Inc. in Hinsdale, IL as a District Manager and for IBM as a Systems Engineer/Consultant.
Julie grew up in Southern California and has raised three highly philanthropic children. She received her Bachelor's degree from the University of California, Los Angeles and has completed advanced studies at Harvard Business School and at the Kellogg School of Management at Northwestern University. Julie is presently on the Advisory Board of USC Marshall Business School Brittingham Social Enterprise Lab, the Advisory Board of UCLA Anderson School of Management Riordan Programs, Board of the Los Angeles Advisors in Philanthropy and is a Board Member and/or Officer of seven Private foundations.