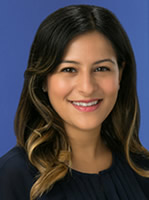 N. Nellie Keyhani
Vice President
Los Angeles Office
Nellie is a Vice President in Whittier Trust's Advisory Services department. Her duties include business development and serving on the firm's corporate marketing team. She is also responsible for the building and maintaining of professional relationships throughout California. Further, she leads the firm's luxury partnerships with brands such as Tiffany & Co., Tesla, Festival Napa Valley and others.
Prior to joining Whittier Trust in 2007, Nellie spent several years working in the Houston office of Baker & McKenzie LLP. Nellie earned her Bachelor's degree in Business Administration from University of California, Berkeley and her MBA from the University of San Francisco. She is also a graduate of the Cannon Trust School.
Nellie is involved in numerous local and global civic and nonprofit organizations. Her previous appointments include serving on the Young Professionals Advisory Board of UCSF Family House and serving as a member of the Grant Advisory Board for PARSA Community Foundation. Currently, Nellie is a Trustee of Iranian American Women Foundation and is a member of the Gala Committee for Farhang Foundation.