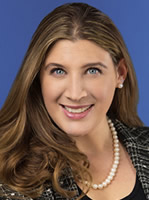 S. Victoria Kahn
Vice President, Client Advisor
Nevada Office
S. Victoria Kahn is a Vice President, Client Advisor with the Whittier Trust Company of Nevada. Ms. Kahn provides financial and fiduciary services to high net worth clients, and specializes in helping individuals and families to create tax-advantaged structures, as well as asset protection and estate planning solutions. She focuses on working with clients in the areas of trust and agency administration, including document review, fiduciary accounting, investments, real estate, taxes, estate planning, philanthropy, and family dynamics.
Ms. Kahn has over 10 years of experience in private banking, estate and financial planning, and tax law. Prior to joining Whittier Trust, Ms. Kahn was a Fiduciary Advisory Specialist with Wells Fargo Private Bank in Santa Barbara, California. Ms. Kahn was also an attorney at Price, Postel & Parma LLP in Santa Barbara. Ms. Kahn's experience also included advising clients on a broad range of individual, corporate, partnership, gift, estate, and international tax issues, as well as business transactions for closely-held businesses.
Ms. Kahn has a B.A. in History, cum laude from Colgate University and her J.D. from University of California, Davis School of Law. In addition, Ms. Kahn also earned her LL.M. in Taxation and her Estate Planning Certificate from Georgetown University Law Center and is a certified Society of Trust and Estate Practitioners member, which makes her a certified Trust and Estate Practitioner (TEP). Ms. Kahn is admitted to practice law in California.