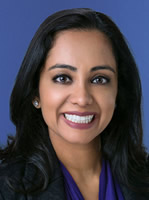 Sapna Singh
Vice President, Client Advisor
Los Angeles Office
Sapna J. P. Singh is a Vice President, Client Advisor in the South Pasadena office of Whittier Trust. She provides client administrative services to high net worth individuals, focusing on family governance and intergenerational wealth transfers.
Sapna brings with her over a decade of private law practice experience and U.S. diplomatic training. Prior to joining Whittier Trust, Ms. Singh was with the law firm Lagerlof, Senecal, Gosney and Kruse in Pasadena where she focused on implementing long range planning solutions for family owned businesses in the areas of business formation, structuring, risk management, and succession planning. She also worked with families to develop tax advantaged estate planning solutions.
Sapna earned her undergraduate degree in Diplomacy and World Affairs from Occidental College with highest departmental honors and her J.D. from Loyola Law School, Los Angeles. She served in the U.S. Foreign Service as a Consular and then Political Officer in South East Asia prior to attending law school.
Her passions include following international affairs, hiking, scuba diving and martial arts. She is active in the community and serves on the board of the Glendora Education Foundation and her local Little League.