It was the thrill of a lifetime crossing the finish line off of Diamond Head at the conclusion of the 51st Annual Transpacific Race. The Transpac from Long Beach to Honolulu is one of the oldest and longest ocean races.  The race started July 17th and would conclude seven days later after traveling 2,225 nautical miles.  We set sail with all the thrill of excitement and preparation that any team could muster.  You then realize at 1,100 miles offshore, you are closer to the International Space Station than you are to land.  At that moment, your small boat, its provisions and your teammates are the most important things in your life.  Whittier Trust Company was the Heritage Sponsor as numerous Whittier family members and employees have regularly been involved in the Transpac since 1923.  It was 98 years ago that Max Whittier, our founder, purchased the 107-foot Poinsettia and entered her in the race with his sons. Since that date, numerous descendants and employees have completed this epic journey.  As CEO of Whittier Trust it was my honor to continue our heritage and legacy.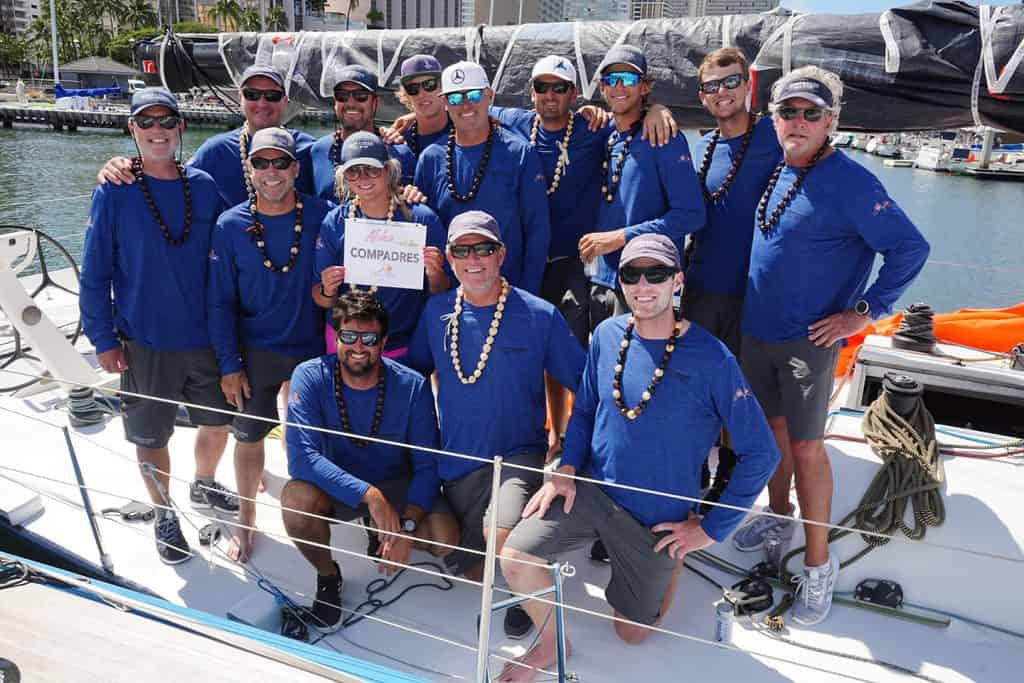 Our agreed upon mission was to sail Fast, be Safe and have Fun.  In the first half of the journey we covered 1,112.5 miles in 3 days, all of which were nearly flawless.  We were succeeding in our mission.  Our strategy, which we had trained for months, was to travel fast to Catalina and then as far north as we could before we would tact to reach the Rhumb line.  We noted the true wind and apparent wind angles and knew we should be fast.  Winds were strong with top speeds of 29 knots, swells were averaging four to six feet, and the team was in high spirits.  My two sons, Michael and Sean were on the deck with me.  As I looked across the boat at them I could not have been prouder.  They are accomplished sailors and young men.  They were sailing with me on a highly competitive long-term race that was an adventure.  It was uniting a tradition of sailing beginning with my grandmother sailing in Paw Paw Lake, Michigan, migrating to my mom and dad sailing at Lake Arrowhead to me and my children sailing in Newport Beach.
On the fourth night around 9:00 p.m., events changed.  Our boom vang broke.  The vang, which holds the boom, is critical to the function of any sailboat – and especially a racing sailboat.  Then the mainsail ripped.  Our team spent hours making repairs.  We improvised and made changes to the sails, our sailing tactics, and strategy.  We raced flying the spinnaker during the day and the storm trysail at night in order to finish the race.  When flying the spinnaker we were still going fast, about 15-18 knots but at night and without the spinnaker we slowed.  We notified, via email, our land crew and race committee, informing them that we were safe but had equipment failures.  We had to notify one boat to cross our stern to avoid an accident.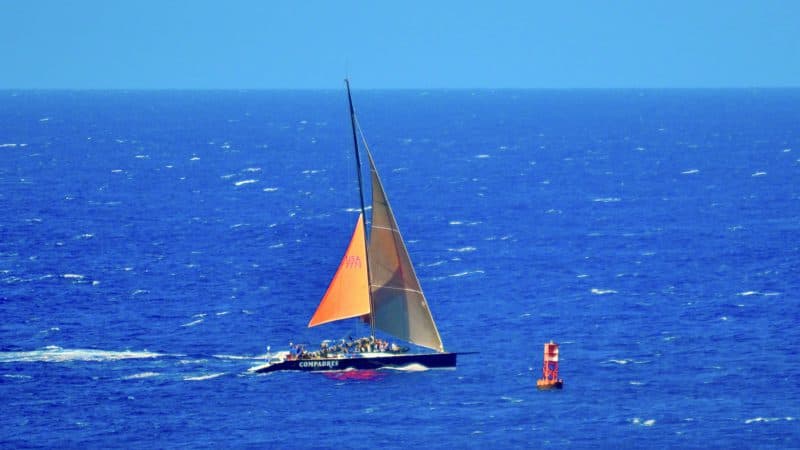 Despite these setbacks, our team came together.  Many competitors would have motored to Honolulu, but our team was dedicated to our mission – finish the race safely and sailing!    Helmsmen, trimmers, bowmen and the entire crew leaned on their multiple talents and cross-training.  When you have limited tools and spare parts in the middle of the Pacific Ocean, and nowhere to turn, you turn inward.  You look around and take stock of what you have, not only in terms of tools and spare parts, but also in your teammates.  Something I have learned in my 35 years of business is each person has talents and skills; all should be cross-trained, and you look for the competitive advantage of each person.  You align your strategy with those individuals' competitive advantages.  This was no different.
As a team, we discussed our situation.  Everyone wanted to achieve our mission – finish the race safely sailing across the finish line off Diamond Head.   Each teammate brought an enlightening perspective on the risk and reward of different strategy options.  The collective input was invaluable.  When it appeared that a definite decision was forthcoming, a new voice brought a dimension that had not been considered.  We deliberated the strengths and weaknesses of each option.  We saw opportunities and threats in every decision.  We recognized that without the vang only the weakened sail would hold up the boom.  If the sail were to fail again, the boom would fall and could destroy the helm and seriously injure crew members.  So, we decided to sail conservatively and safely.  Despite everyone being trained to drive the boat and trim the sail, a weakened sail requires your most talented trimmers and helmsmen. We reorganized the rotation and rest schedules – three hours on watch – three hours rest.
On Sunday morning at 9:00 a.m. Team Compadres' owners all put their hand on the wheel and crossed the finish line together as one.  That moment was second to be greeted by our wives on the dock holding the ceremonial Mai Tai in a hollowed-out pineapple.  Ultimately, the lessons learned are that you must have a quality team, each team member must know their role, and there will never be enough training.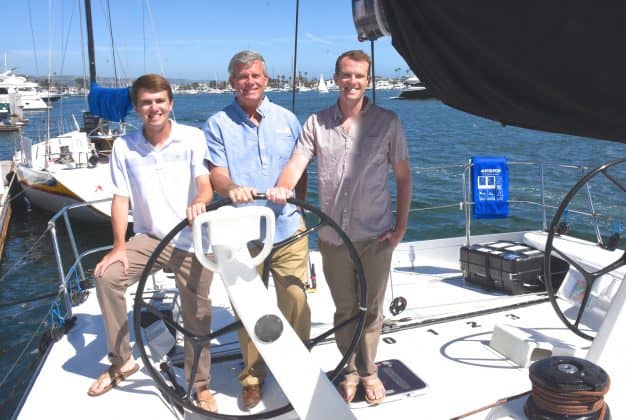 Mental attitude, focus, and commitment are essential components to success.  You can be talented, but if you don't have the willingness and ability to persevere and lead in difficult times, talent alone will not win the race.
As I reflect on this adventure with Michael and Sean I am only saddened that Emmy and Clare, my two daughters, did not join us.  Emmy and Clare sailed for their respective college teams and are great sailors.  Experiences, especially challenging experiences, unite families by creating a common bond.  The Transpac race is an experience that transcends generations.
We succeeded in our mission while completing one of the most storied races in history!  The spirit of Safe, Fast, and Fun will always ring in our ears and it will be one I continue as the leader of Whittier Trust. While the history of Whittier gives us an edge in uniting generations of children, our independence, culture and spirit give us the advantage.  Whittier succeeds where others only dream – thanks to being safe, responsive, and having fun.
David A. Dahl, President and Chief Executive Officer
From Investments to Family Office to Trustee Services and more, we are your single-source solution.