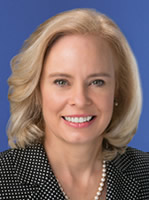 Elizabeth M. Anderson
Vice President
Los Angeles Office
Liz is a Vice President in the Advisory Services Department and is based in the firm's South Pasadena office. She is responsible for a variety of marketing and business development strategies throughout the company, working closely with Client Advisors and Portfolio Managers in all offices.
Prior to joining Whittier Trust in 2014, Liz was Marketing Director at a business law firm in Downtown Los Angeles, where she worked for over 13 years. She brings her expertise in technology, event planning and relationship development to Whittier Trust.
Liz earned her Bachelor's degree in English at the University of California at Berkeley. A native of Los Angeles, she is active in a number of organizations throughout Southern California, including Cancer Support Community of Pasadena and National Charity League. She also serves on the Pi Beta Foundation's Undergraduate Scholarship Committee.